PhD Kristina Raab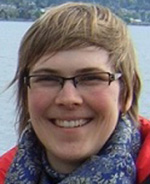 Foto bereitgestellt von
Kristina Raab
Angaben zur Person:
Kristina Raab, PhD, Marine ecologist and science-policy advisor
Institutionelle Anbindung:
Weitere Hintergrundinformationen zu Person und Institution:
Autorin in welcher Expertengruppe / Task Force (vergangen und gegenwärtig); ggf. weitere Funktionen im IPBES-Prozess
Review Editor

für Kapitel 3,4 des

Assessments

für IPBES-Arbeitsprogramm Element 2(b);
Regionale/subregionale

Assessments

zu Biodiversität und Ökosystemleistungen für die Region Europa und Zentralasien (ECA); laufender Prozess

Contributing Author

für IPBES-Arbeitsprogramm Element 2(b); Regionale/subregionale

Assessments

zu Biodiversität und Ökosystemleistungen für die Region Europa und Zentralasien (ECA); Kapitel 4; laufender Prozess

Lead author des thematischen IPBES-Assessment zur nachhatligen Nutzung wildlebender Arten (chapter 6 – policy options)

Lead author des thematische IPBES-Assessment zur Beurteilung der zugrundeliegenden Ursachen für den Biodiversitätsverlust und der Bedingungen für einen transformativen Wandel sowie der Möglichkeiten, die Vision für Biodiversität 2050 zu erreichen (Transformative Change Assessment) (chapter 5).
Teilnahme an anderen IPBES-relevanten Aktivitäten
Stakeholder/Observer at plenaries IPBES-1 (Bonn, Germany, 2013), IPBES-2 (Antalya, Turkey, 2013), IPBES-3 (2015), IPBES-5 (Bonn, 2017), incl. their respective stakeholder days

Co-development of the Stakeholder Engagement Strategy (IPBES-2/3)

Organiser of international meeting of BSPIN (Biodiversity Science-Policy Interfaces Network for Early Career Scientists) prior to IPBES-5 (Bonn, Germany, 2017)

Speaker and co-organiser at the Stakeholder Day prior to IPBES-5, (Bonn, Germany, 2017)

Co-organiser Pan-European Stakeholder Consultation-4 (Vacratot, Hungary, 2017)

Member of the ECA-Network of national biodiversity platforms in support of IPBES

Resource person for the Capacity Building Task Force's 5th meeting (Trondheim, Norway, 2017)

Advisory Board member to the WABES project (West African Biodiversity and Ecosystem Services project in support of the IPBES work programme)

Participant and co-organiser first regional workshop of WABES(Abidjan, Cote d'Ivoire, November 2017)

Other biodiversity-related conventions: participant at CBD-COP13 and CBD-SBSTTA-21
Fragen:
Was ist Ihre Motivation, sich aktiv am IPBES-Prozess zu beteiligen?
Curiosity about the establishment process of an intergovernmental platform in my field of expertise initially triggered my interest. Nowadays it's a desire to support the success of the platform in bringing biodiversity considerations more actively into the political realm in the hope of improved interactions of humans with nature. This includes a better understanding of biodiversity processes and interactions between humans and nature.
Was ist für Sie das Besondere am Weltbiodiversitätsrat IPBES?
IPBES has a vision that includes multiple knowledge systems and thus at least in principle places Western science in perspective as a particular and only one of many ways of knowing/approaching a 'truth'. Further, IPBES offers more opportunities for stakeholder engagement than comparable intergovernmental processes. While both these aspects are embedded in the IPBES process to some extent, IPBES has the special task to find out how to fully operationalise these ideas in practise in a way that is conducive to its aims.
Sie sind bereits schon länger bei IPBES-Prozessen beteiligt. Welche Erfahrungen haben Sie dort bisher machen können und was hat Sie besonders beeindruckt?
I've been following the engagement of stakeholder observers to the plenary the longest, and recently the Pan-European Stakeholder Consultation. In both, what strikes me the most is the willingness of some individuals to spend inordinate amounts of time and resources on contributing to and improving the IPBES process on top of their own regular tasks/jobs. (This reflects the intrinsic motivation of individuals, but I'm aware that this is a luxury situation and the IPBES model thus also restricts the type of persons able to contribute to it.)
An welchem Schwerpunktthema arbeiten Sie mit, und was wäre ein wertvolles Resultat aus Ihrer Sicht?
My hope for the sustainable use assessment is that the summary for policy makers will be constructively negotiated and approved in plenary this summer with the key messages intact and understandable for a non-expert audience. For me the message that sustainable use includes a much broader range of aspects than are commonly addressed is very important to translate into practise, particularly regarding social aspects of sustainable use. The important role of indigenous peoples and local communities in our understanding of, and ability to implement sustainable use of wild species will hopefully become clearer, allowing for humility in relations with IPLCs as well as appropriate actions to support more sustainable use of wild species by all users.
Welche Erfahrungen haben Sie bereits mit "Wissenschafts-Politik-Schnittstellen" gemacht? Welche Chancen und Herausforderungen sehen Sie bei einer Mitarbeit an solchen Schnittstellen?
Through my work as a (mainly pelagic) marine ecologist I have had a lot of interactions around fish and fisheries management. I participated in work and study groups of the International Council for the Exploration of the Seas (ICES); researched marine protected areas' effectiveness; worked on policy recommendations from the scientific perspective in the fish/fisheries domain; and interned at an NGO for which I interacted with congressional staffers in the US political system. On a different topic and scale, I advised University and Research Centre managers in Wageningen on actions for improved gender equality at work.
Welche Chancen und Herausforderungen sehen Sie bei einer Mitarbeit an solchen Schnittstellen?
It's an opportunity to contribute to complex machinery that aims to increase the effectiveness of existing knowledge (a laudable goal in my opinion). The challenge on an individual level is to engage to an appropriate level: enough to make a useful contribution (which requires basic joint understanding of processes and aims), but not too much to become all consumed by the IPBES lens, as this restricts the effectiveness of the platform's interactions with non-IPBES players.
Was ist Ihr persönlicher Wunsch für die Zukunft von IPBES?
A balancing of the four functions of IPBES and reliable (and sufficient) funding. The assessments have precedents and can perhaps strengthen IPBES' visibility – but the three other functions are essential to make biodiversity a more central part of socio-political processes...these have been moving along much more slowly and I hope in the second work programme they will garner more attention and investment.
Also: coordination among international processes to avoid wasting resources and create stronger joint messages; and more social science and humanities insights e.g. on behavior, values etc. in IPBES' work.